Sending a Reconsideration Request to Google – Saving your site
A lot of my sites have been hit hard by Google and it's stupid Penguin algorithm. I wanted to know if my major money making site had been hit by a manual or algorithmic penalty. If it's a manual penalty then the quickest way to fix your site is by sending a reconsideration request to Google AFTER having fixed your site's issues.
How to know if you've been penalized by Google?
If you get no results when searching for "site:YOURSITE.COM" in Google than you've been penalized
When searching for your site's home URL in Google "YOURSITE.COM", it should come up first
Check in Google Webmaster Tools:

Can Google successfully access your site?
Are there many web crawl errors?
Is your robots.txt file restricting any URLs?
Did you get a message from Google?

Does your site follow all Webmaster Guidelines?
Here are the steps to send a reconsideration request to Google:
1- Your site must be signed up on Google Webmaster Tools
2- Inside GWT, you can search for "reconsideration request" or click here to read answer 35843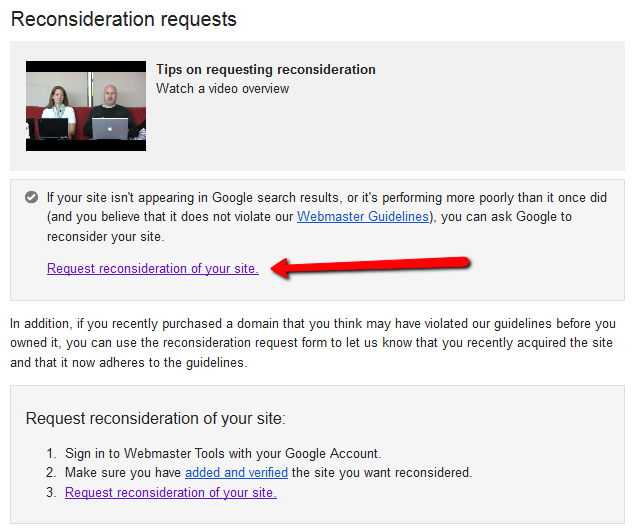 3- Select your site from the list, fill out the form and click the magic button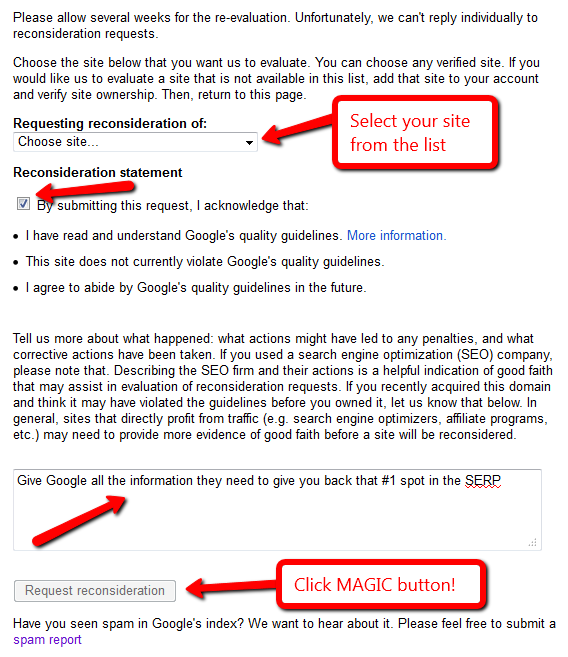 You have now sent a reconsideration request to Google. Depending on the number of requests to be processed, you should receive an answer within 3-4 days. An actual human being will read your message and take an action.
The answer from Google
I had sent a reconsideration request on Google Webmaster Tools for one of my top websites which has been hit HARD by Google (Penguin). I received a response 4 days later from Google:
Reconsideration request for http://example.com/: No manual spam actions found
June 6, 2012

Dear site owner or webmaster of http://example.com/,

We received a request from a site owner to reconsider http://example.com/ for compliance with Google's Webmaster Guidelines.

We reviewed your site and found no manual actions by the webspam team that might affect your site's ranking in Google. There's no need to file a reconsideration request for your site, because any ranking issues you may be experiencing are not related to a manual action taken by the webspam team.

Of course, there may be other issues with your site that affect your site's ranking. Google's computers determine the order of our search results using a series of formulas known as algorithms. We make hundreds of changes to our search algorithms each year, and we employ more than 200 different signals when ranking pages. As our algorithms change and as the web (including your site) changes, some fluctuation in ranking can happen as we make updates to present the best results to our users.

If you've experienced a change in ranking which you suspect may be more than a simple algorithm change, there are other things you may want to investigate as possible causes, such as a major change to your site's content, content management system, or server architecture. For example, a site may not rank well if your server stops serving pages to Googlebot, or if you've changed the URLs for a large portion of your site's pages. This article has a list of other potential reasons your site may not be doing well in search.

If you're still unable to resolve your issue, please see our Webmaster Help Forum for support.

Sincerely,

Google Search Quality Team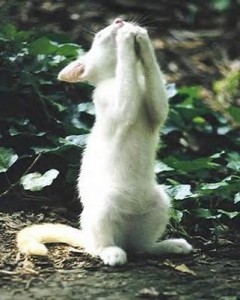 This response is not really what I wanted and doesn't help me much. I wish they could have replied; "Yes your site had been manually penalized because of xyz but now it has been included back in the index". How can my site not have been penalized? It's an authority in it's niche and MUCH better content than the current results. My Facebook and Twitter pages now appear before my own site. That's when you know something messed up has happened! I need to keep building good content and quality backlinks to remove the negative effects from Google Penguin. Not losing hope!
Here's a video by Google from 2008 (kinda old) giving some details on asking for a reconsideration request on GWT. You need to investigate why your site has disappeared from Google. Follow the steps in the video.
This video featuring Rachel Searles and Brian White from the Google Search Quality team gives some tips to fix your site before sending a reconsideration request: