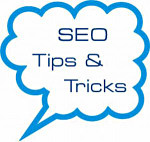 SEO or Search Engine Optimization is a crucial aspect in marketing products and services online. It does not only help in making your website visible to your target audience but it is of big help in gaining revenue. However, revenue will not be visible if an internet marketer does not know the blogging tips to boost SEO for each website pages.
Marketer can boost SEO through software or article marketing but when compare SEO software is quite expensive than article marketing. Article marketing can be done with just your effort and perseverance.
There are countless of tips out there to boost SEO but the question is which one is right for you especially if you are on a tight budget in starting your website?
Here are 5 tips to boost traffic in your website using effective SEO tactics:
1) Choose The Perfect Keywords – initially you have to determine the "right" keyword you will be using in writing your website content. This is the most important blogging tips to boost SEO since this serve to be the heart of your website. Heart will make people alive; similarly for websites keywords will make them alive in the search engine. Once the website is using friendly and effective keywords, it will surely rank in the search engine.
2) Write Interesting Content – this is very important since through it you can deliver or express what your target readers would be interested to know. The content should not be just enticing but it should be also believable in the sense that your readers will not have any space for doubt.
3) Title Choice – choose the right and the most searchable title for each article you will be publishing in your website. Basically, title should contain the keyword or keywords that most net surfers are using.
4) Create BackLinks – this is another good opportunity for your website to be known. If your content contains information you can link the keywords you used to other pages of your main site or to another website with related niche. BackLinks usually help old post renown or keep website traffic going.
5) Use tags – anytime readers may click blog tags to stumble on other posts with similar tags. Through tags, the readers will not have a hard time looking for other posts in your website.
There are various blogging tips to boost SEO that any online marketers may use, however these five tips mentioned above are already proven tips to help internet marketers succeed in there chosen industry. Therefore, before deciding to purchase expensive yet inefficient SEO software start using these tips above to save penny and gain more revenue.
To know more about Tips to Boost SEO, visit this page.