Does Google follow nofollow links?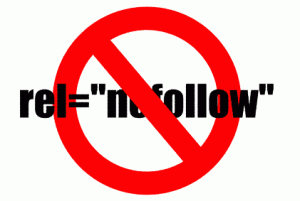 I wanted the answer to this question because I was curious to know how Google would react when faced with a page which has affiliate links which were nofollow. Will Google visit all those links and see that I'm linking to an affiliate programme? If yes, then Google might consider my site as an affiliate (which doesn't have to be bad!) and could possibility get my site in trouble. Especially if I do not have enough valuable content on it.
I found the same webpage on the Google Webmaster Central which contradicts itself. I made screenshots just in case they modify one of the versions of the page.
On this page (About rel="nofollow"), Google says "In general, we don't follow them"

On the same page but a different version, Google says "We don't follow them"

I was really surprised to see the same page with two different versions. I would suspect Google does follow nofollow links because it's curious to see what's behind. A lot of SEO experts say it's important to have both nofollow and dofollow links pointing to your site mainly so your linking efforts look more "humanly". If that's true, then Google has to follow nofollow links. We also know that Google is paying attention to social signals like tweets and facebook likes (shares) which are nofollow.
Here's a video by Matt Cutts from February 26, 2009 (kinda old!) that discusses nofollow links. He gives an example with Wikipedia saying that Google does not pass link juice from all those links to external sites which are nofollowed.
I guess it's pretty easy to test if Google follows nofollow links. In your server logs you can see all the bots which have visited your pages and if your page is only linked from a nofollow link then you know the googlebot actually "clicked" on the nofollow link.
Interesting articles about Google Nofollow:
Google Should Follow NoFollow Links
Is Google penalizing no-follow sites?
SEO: Are Nofollow Links Still Valuable?
What is your thought on this? Do you know of a test to see if Google actually follows nofollow links?