This is how bad I was hit by Google Penguin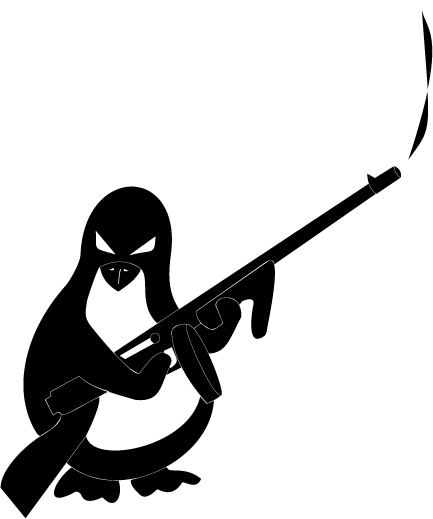 On April 24th 2012, I got a bit of a shock when I checked my sites statistics. I had been hit by the Penguin effect! My main niche website which promotes iPhones had lost a shit load of traffic and so did a lot of other smaller sites. I have 50 niche websites and most of my older ones have been hit and the newer ones are ok. I believe the reason is that the older sites had more backlinks coming from devalued sites like article directories, website directories, backlinks coming from low quality sites. Penguin also looks close at anchor text over-optimization so you need to make sure you don't have 80% of your inbound links anchor text using your main keyword(s). It's all about looking "natural" now and my link portfolios mustn't have been all that natural.
Then a couple days ago Google hit again. Maybe Penguin 1.1? Bizarrely, the 1.1 refresh supposedly came out on May 24th but my site lost almost all it's traffic on May 23rd. Now my money site is dead and only gets traffic from Bing and Yahoo which is not much. It's time for a New Beginning!
Penalty or algorithmic
Your keywords could be losing rank for two reasons: Penalty or algorithmic. In my case, I'm not sure which one it is or maybe a bit of both. From what I know, if your site is penalized then it completely disappears from the index. In this case it's pretty clear you've been hit and now need to fix and clean + submit a reconsideration request on Google Webmaster Tools.
If it's algorithmic, then that means Google believes your site "deserves" to be ranked lower compared to your competition. Most of the time you'll notice that your site is actually more relevant than a lot of better ranked competitors. Yes, currently Google would rather rank higher a less relevant site than ranking a site that's more relevant but that's done some kind of gray or black hat SEO. This rule doesn't make any sense and will change eventually. Google's mission statement is to offer the best possible result for a searched query. The most awesome site should NOT be penalized because it has some backlinks from article & link directories, or too many anchor texts with exact keyword. That's not fair and Google is not helping users by doing that.
Graph from January 1st to May 31rd, 2012: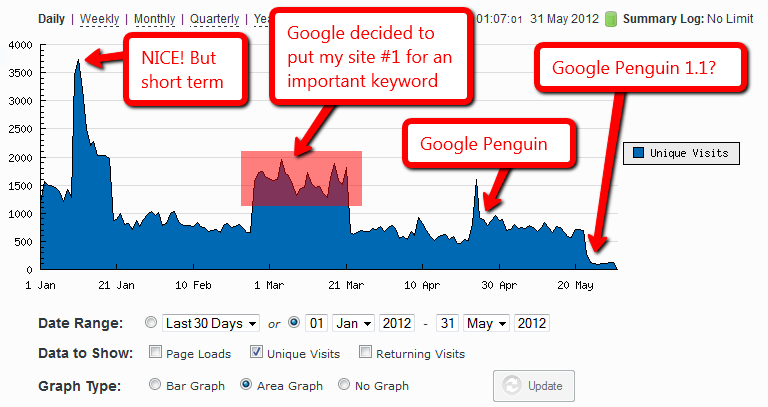 On this graph from Statcounter, you see the unique visitors since January 1st, 2012. Christmas and New years time always has more traffic so it's normal to go down a bit after. You notice a lot of increases and decreases, that's because Google had decided that my site should rank highly for a new major keyword. Then after a couple weeks, Google changed it's mind and deranked my site. The Google Dance! One of those peaks was worth 50$ extra per day. Considerable amount! It's like a roller coaster with this site! I wish it had more authority to be able to stabilize in the SERPs. I'm working on that as I have NOT abandoned this particular niche! For information, during the March increase, I was making $130 per day! That's a LOT of money for one website!
Graph from April 17 to May 31rd, 2012: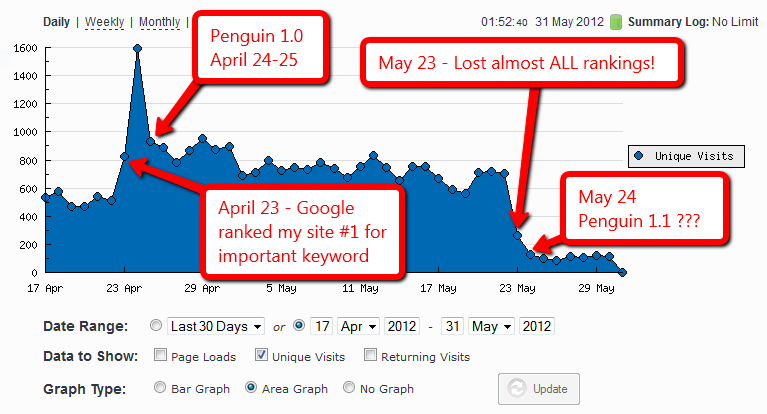 This graph is from April 17th to May 31st. On April 23rd Google ranked my site highly for a new major keyword then the next day I was hit by Penguin 1.0. This was ok because I still had that new major keyword so overall I was receiving more traffic than the days before. On May 23rd, my site lost 20-30 ranks for all keywords. I went from #1 to #30 for all my keywords! 100 visitors a day left… Apparently Penguin 1.1 came out on May 24th so is it related? Did my site get a manual penalty? Only way to know is by sending a reconsideration request on Google Webmaster Tools. After a couple days, you should receive a reply from Google telling you if it's a manual penalty or algorithmic. Then you can take action to fix and send a second reconsideration request if necessary.
Plan of Action
I want my site back in the top for its targeted keywords on Google! I'll start by sending a reconsideration request to wait for Google's answer. I've already started sending emails to a whole bunch of relevant blogs in my industry to ask if I could guest blog for their site. In exchange I'll receive a WHITE HAT backlink toward my site. If I do enough of these my site surely has to go back to the top! I'll also clean my site a little because I do have a lot of internal links using exact match anchor text.
Don't PANIC, think about your next steps and start a plan of action! Good luck and please share your own experience in the comments below.